GoFetch Mail Features and Benefits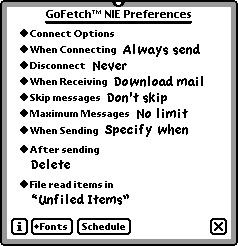 Read email online or offline - remembers which messages you already browsed or read, and only retreives the new ones.
Mail Stationary - send mail with a few taps right from the Notepad
Launch URLs from your mail messages (with Newton Web Browser)
Integrated Newton Mail transport - No new application to learn!
Real Internet Email ~ Supports POP3 & SMTP mail servers on both the Internet and company's Intranet
Works with NIE (PPP & SLIP) and UNIX shell access
Benefits
Email anytime, anywhere
When you're on the go, important information needs to find you. You need your email no matter where you are. That's why GoFetch Mail works with any Newton compatible modem, including cellular phone modems.
Instant Internet Email
Setting up other email programs can be tough. That's why GoFetch Mail comes with two Internet service providers built right in! Now all you need to do is register, fill-in the information, and away you go! Want to use your own provider, then just fill in the necessary information with the easy configuration tool, and you're on your way!
Fast and light Shell access
UNIX shell account access offers a very fast hook-up time (handshaking), so you get get on, get your mail and get off in the fastest possible time. This is great for mobile phone access where slow modems and weak signals leads to PPP taking over a minute just to get going. With shell you can go on-line, have checked your mail and be off in that sort of time. UNIX shell also lets you hook right up to a UNIX mail server via a serial cable, so you don't even need a modem to get your mail.
Only Enfour's GoFetch and UniMail offer shell account access on the Newton. Ask your provider if they support Shell mail access. If they do, give us a try. You can get a list of access points that support UNIX shell in NewtonBook format from the TrueNorth Web page.
Note to ISPs: If you would like GoFetch to provide built-in support for your service please contact us and we will build that support for you.
Install and Email ~ Nothing New to Learn
Sending mail with GoFetch is a snap. Just write a message in the Notepad, select mail, and let GoFetch do the rest! GoFetch will route the message over the Internet. Receiving email is even easier, just use the In/Out Box as you normally would. GoFetch is an integrated communications transport. That means you don't have to learn anything new to send and receive mail.