Enfour announces UniFEP TC (Traditional Chinese) for EPOC

Chinese version
June 12th, 2001 - Enfour Group HQ Tokyo

Today, Enfour announces the release of "UniFEP TC", a display and input system for Chinese characters using Unicode encoding on Symbian Platform (EPOC ER5).

UniFEP TC is the latest product from Enfour in the UniFEP family of multilingual input solutions for mobile device and is specifically aimed at users of Traditional Chinese (such as Hong Kong and Taiwan). UniFEP TC allows users to send and receive emails, view Web pages and beam contact information in Chinese.
UniFEP TC supports the full Big5 character set with additions of Hong Kong extended characters. And, unlike other Chinese solutions on other platforms, UniFEP TC also supports the Simplified Chinese character set used in mainland China.
Input methods included are: PinYin (SC &TC), ZuYin (Bopomofo), ChangJie, Array, DaYi, WuBi and Quick.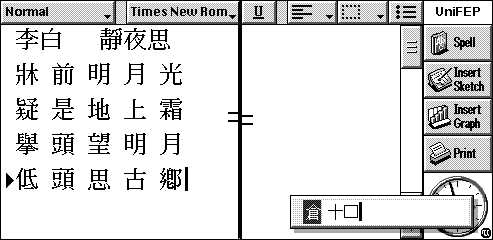 Full details of features and functions are available here.

For international purchasing contact
Hong distribution by Onflo Computer Co. Ltd.