Enfour launches TangoTown in Australia on Telstra i-mode
®
Tokyo-Japan, Melbourne-Australia Thursday 26 May 2005

Today Enfour announces the official content listing of TangoTown in Australia on Telstra's new i-mode® service.

TangoTown was first released in Japan in May 2002 and this latest release is the fourth time it has been accepted as official content by a major mobile phone carrier around the world.

TangoTown, the first fully-featured premium mobile content service specifically services the Japanese language reference, learning and lifestyle needs of students, language enthusiasts, tourists and business travellers.

Features of TangoTown:
The E<>J dictionaries are fully indexed with grammar notes, fuzzy lookup, and the widest on-line range of Kanji lookup tools including the first mobile version of SKIP — the renowned Kanji learning method developed by Jack Halpern from CJK Dictionary Institute, Inc. Extensive vocabulary lists for every occasion, plus interactive learning tools such as Flashcards and quiz games are available for all levels of Japanese ability. Extra features include an extensive Phrasebook, bi-lingual, cultural reading articles and conversion charts for Japanese dates. Daily Lessons such as "Word-of-the-Day" and "Kanji-of-the-Day" are available as emails directed to the users handset.

TangoTown can be accessed in Australia from Telstra's Foreign Language menu and is AU$3 per month.

A web demo and samples can be found at http://tangotown.jp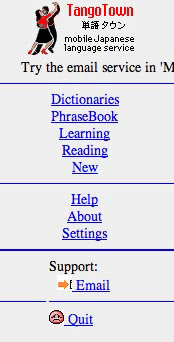 About Enfour Inc.
Enfour, Inc. is a Tokyo-based specialist in multilingual text handling, communications software and imaging for mobile systems. Enfour has been creating Asian language solutions, development tools and packaged software for nearly every handheld computer platform since 1994. Focusing on mobile phone development and online content, Enfour is working with smart-phone manufacturers and mobile carriers to create integrated solutions for consumers in emerging markets.
Enfour's Mobile Internet contact:

About the CJK Dictionary Institute, Inc. (CJKI)
CJKI has become one of the world's prime resources for CJK lexical resources, and is contributing to CJK information processing technology by providing software developers with high-quality lexical resources, as well as through research activities and consulting services. The CJK Dictionary Institute, Inc. (CJKI) consists of a group of linguists and other experts who specialize in CJK lexicography. CJKI is headed by Jack Halpern, editor-in-chief of the New Japanese-English Character Dictionary which has become a standard reference work for studying Japanese. The principal activity of the CJKI is the development and continuous expansion of a comprehensive database (DESK) that covers every aspect of how Chinese characters are used in CJK languages, including Cantonese.
http://www.cjk.org
About i-mode®
i-mode was developed by NTT DoCoMo and first launched in Japan in February 1999. With the launch of i-mode in Australia, i-mode has now been rolled out in nine countries including France, Greece and Germany and has more than 45 million subscribers worldwide.
http://www.i-mode.com.au