Tokyo/London: Thursday December 20, 2001

Enfour, Inc announces shipping of the "Psion 5mx PRO J", the first fully native Japanese Symbian OS device.

Incorporating Enfour, Inc's desktop quality kanji character input software, "UniFEP PRO", Psion and Enfour have collaborated to produce the "Psion 5mx PRO J" specifically targeting the discerning Japanese consumer market.

The Psion 5mx PRO J features 32 MB RAM (with 18 MB user area free) and a 32 MB CF card. -and offers a suite of Japanese email, web, faxing and printing all in a pocket-sized device.
"We are pleased to have been able to work with Enfour to release the first Japanese hardware from Psion. The availability of the 5mx PRO J strengthens our position in the Asian market and we look forward to continued success throughout 2002." said Geoff Kell, Managing Director of Psion - Asia Pacific.

"Enfour has been working with Psion for the past four years because of their superior design and product quality. This is so important to Japanese users who expect only the best of imported and well as local goods. Plus, the stability and depth of features in the Symbian OS assures it will be the standard for the next generation of mobile communications. With top grade localization and language handling, Asia's huge mobile market will definitely be appreciative of products taken to this level of sophistication." said Richard Northcott, CEO of Enfour Inc.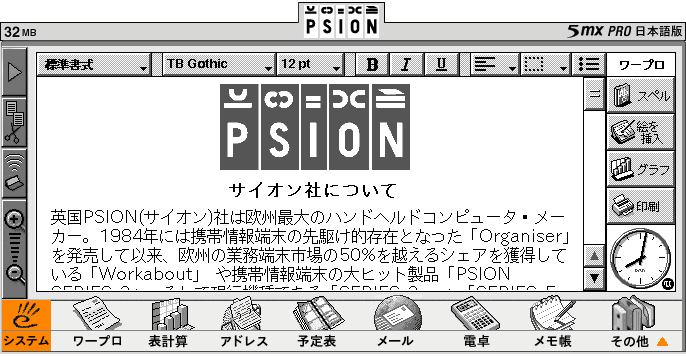 About Enfour, Inc
Enfour, Inc. is a Tokyo-based specialist in multilingual text handling, communications software and imaging for mobile systems. Enfour has been creating Asian language solutions, development tools and packaged software for handheld computer platforms since 1994. Enfour is the Japanese distributor for Psion Digital Ltd and publisher of the "UniFEP" series of language input software. Enfour previously worked with Psion to create the first Chinese localized Symbian OS device, the Psion 618C, released earlier this year.

Enfour software and Psion products in Japan

About Psion PLC
The Psion Group is focused on providing mobile data and corporate network solutions. Psion has a well-earned reputation for technology innovation and leadership. Psion was founded in 1980 by its chairman David Potter and is now one of Europe's leading technology companies with a history of pioneering new markets for digital products. Psion PLC has a worldwide distribution network comprising more than 25 sales offices and over 50 independent overseas distributors. Psion is also the largest shareholder in Symbian, a joint venture company owned by Psion, Ericsson, Motorola, Matsushita and Nokia. Symbian's objective is to develop and market its platform technology as the industry standard for the next generation of Smartphones and Communicators. For more information, please visit http://www.psion.com/