Enfour Group Partners with Oxford University Press for Mobile Dictionary Services.
Tokyo-Japan, Oxford-United Kingdom, Melbourne-Australia Thursday 26 May 2005

Today Enfour Group announced a collaboration with Oxford University Press to launch dictionary and reference services on mobile phone networks.

The first site featuring The Australian Oxford Dictionary has commenced in Australia with Telstra's new i-mode® service as an official content site.

The titles featured on Enfour's service include The Australian Oxford Dictionary Second Edition and The Oxford Thesaurus of English, Second Edition.


The Australian Oxford Dictionary, Second Edition
* Over 110,000 headwords (and over 225,000 straightforward definitions)
* 10,000 new lexical items dramatically increase the core size of the dictionary
* More than 10,000 encyclopaedic entries with special attention to Australian culture and history, including Aboriginal history.
* Special appendices include grammar, punctuation, Australian leaders, locations of Australian Aboriginal languages, and collective nouns

The second edition of the Oxford Thesaurus of English offers unrivalled coverage of over 600,000 alternative and opposite words, and over 36,000 examples of words in use to help you choose the right sense. Updated with the latest words to be entered in Oxford dictionaries, it is accessible and easy to use.
Richard Northcott, CEO of Enfour states, "We are pleased to be working with Oxford University Press to offer exciting new mobile services in new markets such as Australia with the new Telstra i-mode® service. We are confident this is an innovative communication & learning tool allowing rich and comprehensive English language reference tools to take with you anywhere and anytime."

Ann Lawson, Senior Rights Manager (Electronic), Academic Books Division, Oxford University Press (UK) commented, "We here at Oxford pride ourselves on our premium reference content, and we are always looking for ways to make this accessible to people wherever and whenever they need it. We are excited to be working with EnFour on this new service, and look forward to moving into new markets in the future."

OUP Australia's Managing Director, Mr Marek Palka said OUP was proud to announce this landmark dictionary's availability on Australian mobile phone networks. "Oxford University Press has an unrivalled reputation for publishing dictionaries of authority and excellence throughout the English speaking world. The second edition of the Australian Oxford Dictionary reveals the richness of our changing and vibrant language and is the essential, authoritative Australian lexical reference for the new millennium."

This subscription based service is now available in Australia using Telstra i-mode® handsets for a monthly subscription fee of AU$2 per month.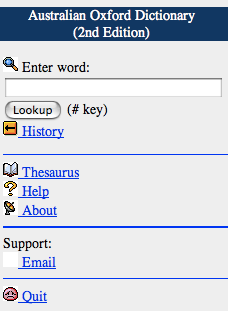 About Enfour Inc.
Enfour, Inc. is a Tokyo-based specialist in multilingual text handling, communications software and imaging for mobile systems. Enfour has been creating Asian language solutions, development tools and packaged software for nearly every handheld computer platform since 1994. Focusing on mobile phone development and online content, Enfour is working with smart-phone manufacturers and mobile carriers to create integrated solutions for consumers in emerging markets.
Enfour's Mobile Internet contact:

About Oxford University Press
Oxford University Press is a department of the University of Oxford. It furthers the University's objective of excellence in research, scholarship, and education in its worldwide publishing. The preparation of dictionaries and reference books, of all types and for all ages, has been a central part of its activities for more than 100 years.
For more details please see http://www.oup.com
About i-mode®
i-mode was developed by NTT DoCoMo and first launched in Japan in February 1999. With the launch of i-mode in Australia, i-mode has now been rolled out in nine countries including France, Greece and Germany and has more than 45 million subscribers worldwide.
http://www.i-mode.com.au