IR POD
New IrDA version about to ship!!
An IR interface unit for transferring data from PC to Newton MessagePad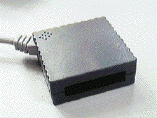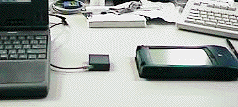 ---

What is an IR POD?
IR POD is an IR interface unit for PC that enables transferring data from your PC to Newton MessagePad, utilizing Beam capability built in the MessagePad. This allows you to input lengthy text to your Newton with ease. What's more, no cable connections are needed! The following are required for actual use; a generic terminal software for PC, and a Newton software to utilize Beam capability (Connect.pkg for example).
Features
No cable connections required
Compact, light-weight design No batteries and AC Adaptors
-- powered from PC port High compatibility with SHARP products
Functions
Realtime input/transfer of text data
You can directly type-in from PC keyboard to text-input fields on Notes, Names and Dates on the Newton MessagePad, in real-time
Kilobytes of bulk text data can be transfered to Newton, using copy & paste capable terminal software
Compatibility with SHARP's ZAURUS
- You can utilize ZAURUS and its software
Future extensions
- Various extensions can be considered, using IR-capable software
Specifications
IR Method: IrDA 1.1 ; ASK (SHARP's identical method)
Size: 42.5 x 42.5 x 16.5 mm
Cable Length: Approx. 150cm (incl. main unit)
Weight: Approx. 20g (excl. cable)
Connector: DIN 8-pin (Macintosh serial port)
Package Contents
IR Interface Unit
Guarantee Card
Speciications Sheet
User's Manual
Hardware requirements
PC with generic terminal software and a serial port
Newton MessagePad (Original/100/110/120/130/2000) or compatibles
Connection port
Macintosh: Serial port (Modem or Printer port)
PC/AT Compatibles: COM1 or COM2 port (optional adaptor may be required)
Software Requirements
Software that supports Beam capability
Contact






Newton Infomation
Enfour Inc.